Mobile Mechanic Redland Bay
Home Car Servicing Starting $249
Affordable Mobile Car Repair Made Easy
Getting your car serviced or repaired is often a hassle. That's why we've introduced our mobile mechanic services in Redland Bay and surrounding areas. We come to you, so car repairs and servicing have never been easier.
Car Servicing At Home
Our Redland Bay mechanics offer comprehensive mobile servicing of your car at your own home. No more dropping your car at a service centre or dealership and arranging alternative transport for the day.
No more driving unnecessarily and killing time while your vehicle is serviced. We make life easier by completing your car service at your own home. You barely even need to get off the couch! Offering both major and minor car service options, you can simply book a time, and we'll be there to keep your car in great condition. We also offer a log book service.
Take Back Your Time
If you value your time and don't want to spend it driving all over town or waiting around for a car service, our convenient service is for you. Whether it's a standard service, general repairs or your car won't start, you can rely on the team at Redlands Bayside Mobile Mechanics.
Spend more time doing the things you love, and we'll take care of your auto needs. So whether you're after a mobile mechanic in Alexandra Hills, a mobile mechanic in Victoria Point or are needing assistance in the surrounding Redland Bay areas, give us a call!
A Fast, Reliable Car Service At Home
If you've got an urgent issue, such as your car not starting or not feeling safe to drive, we can be there in a flash. We appreciate that many people need their car for work or family reasons, so we don't want you to be off the road for too long.
Our team of professional mobile mechanics in the Redland Bay area can get to you quickly, get you back up and running, and also recommend any further repairs or maintenance that may be required. However, it doesn't need to be an emergency for us to act quickly. If you want your car serviced sooner rather than later, we'll be at your property as soon as possible.
At the end of the day, we provide you with all the advice you need to make the right choice, but repairs are only done with your approval.
Honest And Transparent For All Repairs
As mobile mechanics around the Redlands Bayside area, we understand that not everybody has a deep knowledge of cars and other vehicles. Unfortunately, many in our industry take advantage of this, but we do things differently at RB Mobile Mechanics.
We operate with honesty and integrity at all times, and we'll always explain things in a way you can understand. While we can undertake most standard servicing operations and even complete many repairs at your home, there are sometimes more major issues that require lifts.
If that's the case, we'll explain exactly why this is necessary, and we'll arrange for your vehicle to be delivered to our workshop.
Contact Your Local Mobile Car Mechanic Today
If you need car repairs or servicing around the Redlands Bayside area, please don't hesitate to call us. Our fast, reliable service will have your auto repairs or servicing complete in no time, and you won't even need to leave the house.
We're proud to be your local Redland Bay mobile mechanic, and we love the fact that we can make car repairs and servicing even easier. We cover a range of services from fleet services, to a pre purchase car inspection to engine tuning. Contact us today to arrange a booking, and we'll have your car up and running in no time.
Almost all of our repairs are done on site at a time and place convenient for you.
Engine Tuning
We can perform an OBD Tune-Up at your home or work when it suits you.
Alternator
Redlands Bayside Mobile Mechanic can repair all Alternator related problems.
Starter Motor
Redlands Bayside Mobile Mechanic can replace your starter, without any worries.
Radiator
Redlands Bayside Mobile Mechanic can replace your Vehicles cooling system.
Brake Pads
Redlands Bayside Mobile Mechanic can replace and check your braking system.
Timing Kit
Redlands Bayside Mobile Mechanic replaces Timing Belts, idler pulleys, and tensioners.
Exceptional Customer Service
We pride ourselves on our customer service at RB Mobile Mechanics. That's why we offer our mobile service, to begin with!
We understand that not everybody can get their car into a mechanic for service easily. Whether you live alone, have no alternative transport or have mobility issues, we're here to make your life easier.
Our mobile mechanics always arrive with a smile and offer a genuinely friendly service that we know you'll be happy with.
Redland Bay Mobile Mechanic
Whether you drive a brand new car or an old muscle classic, Redlands Bayside Mobile Mechanic can service your vehicle using quality sourced parts and oils, while providing full stamp book servicing in maintaining your new car warranty.
GET A QUOTE
Tell us what your car needs or ask for a diagnostic.
BOOK APPOINTMENT
Provide your home or office location.
GET YOUR CAR FIXED
No more waiting - our mechanics come to you.
Dave from Redlands Bayside Mobile Mechanic has been brilliant in fixing my car, I had a starter motor issue and he was there within the hour to fix the issue, he found a great price on my part and fitted it immediately, I've gone on to have Dave fix many more little bits and pieces that I wanted doing, done well!
---
J Walker,
Logan Area
Servicing South East, North and West regions of Brisbane!
David O'Donoghue is a qualified Mechanic with a fully equipped Ute, he can come to your home or work. Dave will service or repair your vehicle in a clean and professional manner within your home or office when it's convenient for you.
No need to drive to a workshop, Dave will meet you at your desired location, with that Dave's approach can save some serious time in your day!.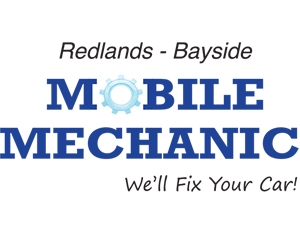 Owner of Redlands Bayside Mobile Mechanic, David O'Donoghue, started his apprenticeship some 10 Years Ago with Doug Barton Holden Wynnum, Dave excelled in the pursuit of his Mechanical passion, he went on to specialising in Diesel Mechanics where he worked on Light and Heavy Commercial Transporters.
Thanks to Dave's wide array of training he is capable of taking on any job big or small. Given Dave's skill-set, Dave noted a gap in the Mobile Mechanical Market and decided to start his own Business, where Redlands Bayside Mobile Mechanic offers a wide array of service and maintenance abilities in all Vehicles, 4WD's, Light & Heavy Commercials.
Frequently Asked Questions
Yes, our best mechanics in Redland Bay are available for call outs. We do also service the Thornlands and Mount Cotton regions, so whether you need pre-purchase inspections, roadside assistance, or emergency mechanical repairs, be sure to contact our local mechanics for help.

We offer 24-hour emergency mobile mechanic services to ensure that you get the help you need anywhere and anytime when you need it most. Be sure to confirm your availability with our Mechanic in Victoria Point, QLD before making any arrangements.
Due to the lack of equipment and resources available in a mobile mechanic's van, some more complex mechanical repairs may not be able to be completed. This can include larger engine repairs, suspension work, transmission issues, and other parts that require specialised tools or heavy lifting.

If you're uncertain as to what types of repairs we can do for you, please feel free to contact our Mechanic in Victoria Point and we'll be happy to advise on the best course of action.
Our Primary Service Locations
EXPERIENCED MECHANIC IN ALL MAJOR BRANDS